This month we release version 1.4 of our 28 pin AVR board. As with the previous releases, we've incorporated changes our customers recommended. Keep the feedback coming, cause we love it.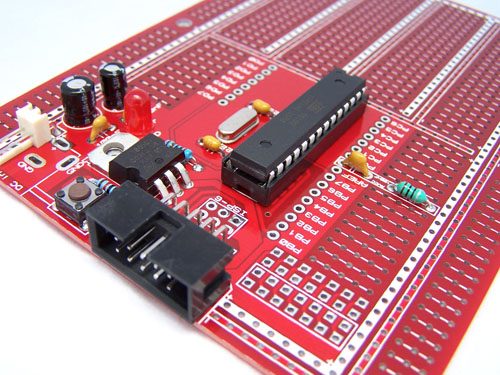 The most notable change is the inclusion of a power supply area. In previous versions you could create a power supply by using the generic prototyping area, but this makes it much easier.

This section allows you to bring unregulated power to the board using a 2.1mm barrel connector or a 2 pin header. The power supply core is a voltage regulator. It is expected that most people would use an L7805, but other regulators would also work.
All in all there are 4 improvements:
Addition of power supply section
ISP-6 interface is now 2×3 pin instead of 1×6 pin
Addition of IDC/Double row header section
Clearer labelling of power busses