Description
This AVR Development Kit contains everything you need for a basic ATmega32A circuit includes a 40 pin AVR development board, ATmega32A-PU Microcontroller , power supply components and more.
The development board measures 127 x 94mm (5″ x 3.7″), is made of 1.6mm FR4 and has clean routed edges. It has 6 mounting holes and conforms to the large-size protostack form factor. This allows it to be stacked with other large, medium and small protostack boards.
The copper (top and bottom) has a thickness of 1oz per sqr foot and the GND and VCC power rails have a width of 50mil (top) and 60mil (bottom). This allows plenty of current to get through with very little track heating. The power rails are routed right throughout the board, making it easier to add your own circuits. The solder pads are quite large and are treated with lead free HASL, making it easy to solder components in place. All holes are through plated.
This is the kit that Tweak Town reviewed and gave a "Must Have – Best Features award". You can read the full review here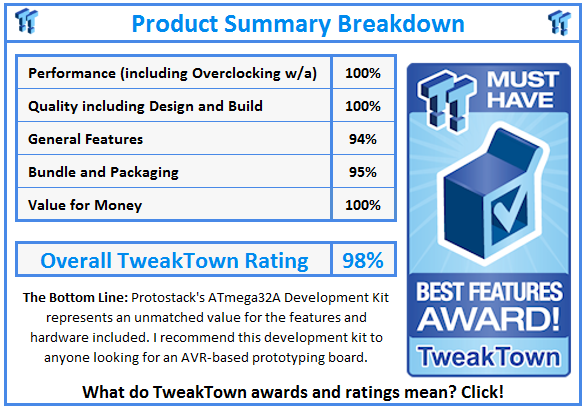 Aside from the board, the kit also contains the microcontroller, the power supply parts and a range of other components needed to create a basic AVR circuit. Being a through-hole kit it is easy enough for a beginner to use, and the User's Guide has detailed instructions.
Whilst many AVR programmers will work with this board, we recommend the USBASP AVR Programmer.
Included in each Kit
Rated Current
Power rails: 6A
General connection Strips: 3A
Mounting Holes
6 x 3.175mm (0.125")
Component Holes
1194 x 35mil (0.9mm), 61 x 30mil (0.75mm), 20 x 20mil (0.5mm) and 3 slotted holes
Board Material
1.6mm FR4
Pad Treatment
Lead Free HASL
Copper Thickness
1oz per sqr foot
Track Width
Top - Power rails only: 50mil (1.27mm)
Bottom: 60mil (1.52mm)
Supported Microcontrollers
ATMEGA16A-PU, ATMEGA32A-PU, ATMEGA8535-16PU, ATMEGA8535L-8PU, ATMEGA164A-PU, ATMEGA164PA-PU, ATMEGA324A-PU, ATMEGA324PA-PU, ATMEGA644A-PU, ATMEGA644PA-PU, ATMEGA1284-PU, ATMEGA1284P-PU, ATMEGA16L-8PU (obsolete), ATMEGA16-16PU (obsolete), ATMEGA32L-8PU (obsolete), ATMEGA32-16PU (obsolete), ATMEGA164-20PU (obsolete), ATMEGA164V-10PU (obsolete), ATMEGA324-20PU (obsolete), ATMEGA324V-10PU (obsolete), ATMEGA644-20PU (obsolete), ATMEGA644V-10PU (obsolete)
Notes
Rated current is based on many factors including acceptable temperature rise and ventilation. When calculating rated current, we assumed:

10°C acceptable temperature rise
board in open air
power rails only.

Voltage rating was calculated in accordance with IPC-9592B