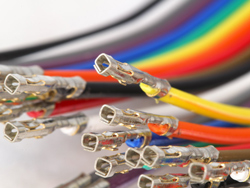 August 27, 2013. Brisbane, Australia – Protostack, an innovative Australian developer and retailer of microcontroller components continues to expand its product range. The latest additions to the Protostack catalogue are a comprehensive range of ribbon cables and DuPont connectors.
If your prototyping project requires running a series of wires from a PCB or breadboard, ribbon jumper cables are the simple and elegant solution to avoid creating a wiring bird's nest. Whether you need 4 parallel jumpers or 40, you can use Protostack's 40 wire-wide ribbons to keep your wiring in colour coded and in order. Simply, strip off the required number of jumpers and you are ready to go.
The ribbon jumpers are available in a number of different configurations to suit your applications. These configurations include: male connectors on either end; female connectors on either end; male and female connectors on either end; female connectors at either end with no housing; and male and female connectors at either end with no housing.
Ribbon jumpers feature PVC insulated copper conductors. They measure 200mm long and 56mm wide. Each conductor terminates in a DuPont 1P connector unless otherwise stated. A complete set of specifications for the all variants of the 40 wire ribbon jumpers are available on the Protostack web site.
Jumpers with no housings are also available. This option provides the user with the flexibility to use connectors sized specifically for the given task. To cater for this requirement, Protostack have just added a range of DuPont connector housings so you can custom make your jumpers to meet your specific demands. DuPont connectors can be supplied in configurations to accept from 1 to 10 conductors, and provide a professional termination with a quality appearance.
Ribbon cables and DuPont connectors are now available for purchase from Protostack's online store at protostack.com, along with a comprehensive range of other prototyping supplies.
About Protostack
Protostack is an innovative developer and retailer of microcontroller components for prototyping applications. Amongst their product range are uniquely designed components specifically designed to speed the prototyping process to help you turn your concepts into marketable systems.