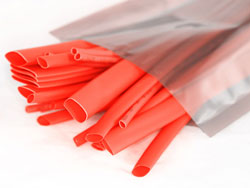 July 31, 2013. Brisbane, Australia – Protostack, an innovative Australian developer and retailer of microcontroller components has reinforced its commitment to their customers by adding yet another quality product to their arsenal. Heat shrink tubing is now available to help prototypers keep their wiring tidy and ensure circuit integrity.
Heat shrink tubing is the ideal way to give your wire connections and terminals that professional look while providing electrical insulation. Forget trying to wrap joints in bulky insulating tape. Simply sleeve your joint in heat shrink tubing and heat with hot air gun, soldering iron or even cigarette lighter and watch the tubing shrink down to tightly and neatly protect your joints from dreaded short circuits.
Heat shrink tubing can be used to insulate solid or stranded conductors and protect bare wires from dust, solvents and other nasties. It can also be used to repair insulation, bundle wires or to create cable entry seals. It is also suitable for irregular shapes, and once heated will conform to the shape of the underlying materials.
Protostack are able to supply heat shrink tubing in a range of colours to suit the most discerning electronics junkie. Choose from Gorgeous Blue, Lush Green, Cheerful Yellow, Exciting Red, Beautiful White or Stylish Black and make your wiring stand out, or simply choose your favourite hue to colour code your wiring.
Heat shrink tubing is supplied in packs containing 24 pieces in diameters ranging from 1.5 to 8mm. Each piece is 200mm in length and can be cut down to suit your specific application.
For the more technically inclined, the tubing is made from cross linked polyolefin and will shrink down to half its' original diameter when subject to temperatures above 90°C. The tubing has a maximum recommended service temperature of 125°C and 600V, and a flammability rating of VW-1 (UL1581).
Tubing packs are now available for purchase from Protostack and can be ordered online from www.protostack.com, along with a host of other prototyping supplies.
About Protostack
Protostack is an innovative developer and retailer of microcontroller components for prototyping applications. Amongst their product range are uniquely designed components specifically designed to speed the prototyping process to help you turn your concepts into marketable systems.