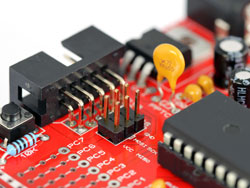 June 4, 2013. Brisbane, Australia – Protostack, an innovative Australian developer and retailer of microcontroller components is pleased to announce the latest addition to their range of development boards. The custom designed 40 Pin AVR Development Board (PB-MC-AVR40) features a host of unique features the speed up the microcontroller prototyping process.
The Development Board allows developers to quickly build microcontroller circuits using AVR microcontrollers such as the ATMEGA16 and ATMEGA32. It conforms to the Protostack full-sized form factor measuring 127 x 94mm (5″ x 3.7″) allowing it to be stacked with other full-sized or half-sized boards using the 6 mount holes and standard hexagonal spacers.
The design of the 40 pin development board is similar to a standard breadboard but features a number of design features unique to Protostack. Compared to a standard breadboards they include power busses that are pre-routed and run from edge to edge with no gaps. The power busses are also available in gap where DIL components usually reside allowing increased flexibility for component placement enabling a greater range of options for connecting power to components.
To help microcontroller prototypers, these new boards feature screen printed layouts on the top side allowing designers to easily see power bus locations and connection points.
Common to all Protostack boards, these boards have sets of 3 connector pads on the top and bottom edges. These are suited to interfacing of adjoining boards above or below one another or with external boards.
The boards are made from quality FR4 fibreglass which is stronger and more robust compared to many cheaper paper based phenolic prototyping boards, reducing unwanted failures.
All solder joint pads use a premium lead free solder which conforms to RoHS environmental standards for electronics. The lead free HASL pad treatment also protects the copper tracks from oxidation and improves solderability.
Boards are also protected by a polymer mask, a feature normally restricted to high end PCBs.
The 40 Pin AVR Development board is exclusively available from Protostack and can be purchased from their online store at protostack.com, along with a comprehensive range of other microcontroller components.