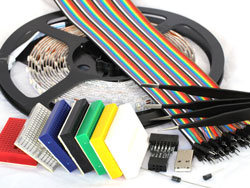 Brisbane, Australia May 12, 2013 – Protostack, an innovative Australian developer and retailer of microcontroller components have increased their product range with addition of a host of new components for prototypers and developers.
For prototypers with limited workspace, Protostack now offers 170 tie point mini breadboards with the diminutive dimensions 47 x 35 x 8.5 mm (1.8″ x 1.4″ x 0.3″) and weighing in a paltry 13 grams. They feature a self-adhesive backing and phosphor bronze nickel plated spring clips.
To help those with big sausage fingers, Protostack now stock a range of tweezers to help with handling and precision locating of those tiny electronic components. Tweezers are available in fine tip, broad tip and curved tip designs and feature corrosion resistant stainless steel construction with an anti-static coating.
Adding to their range of LED and LCD products, Protostack now stock RGB LED lighting strips. The strips are 5m long with 300 long-life SMD LEDs. The strip can be cut to length and RGB channels can be mixed using pulsed width modulation to produce any colour you desire.
Other new products just added to Protostack's range include:
10 Pin to 6 Pin AVR programming adapters
300mm male to male jumpers – Ribbon of 40 wires perfect for PCB prototyping
USB Type A Male Connector featuring through hole design that can be modified for use on Protostack boards
1N5391 general purpose 1.5A rectifier diodes, suitable for replacing 1N4004 diodes on microcontroller board power supplies when extra current is required
2N2907 PNP general purpose transistor
These products and a range of other microcontroller components are now available for purchase from the Protostack online store at www.protostack.com.