Version 1.5 of the 28 Pin AVR Development Board is now available. As before we have incorporated a number of changes that people had asked for.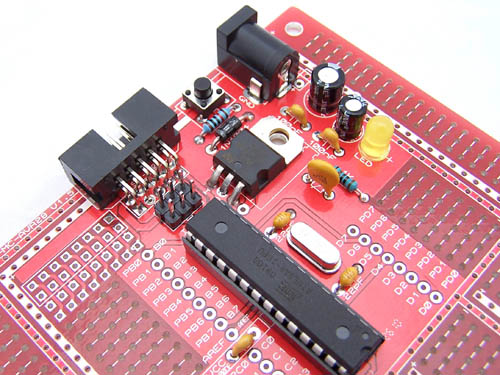 The most notable change is a figure-8 shaped hole for mounting the voltage regulator. This configuration allows for both Input/Ground/Output (IGO) and Ground/Output/Input (GOI) style voltage regulators. Other changes to the power supply include the addition of a diode to protect against reverse polarity and a resettable fuse.

All in all there are 6 changes
Addition of diode to power supply block,
Addition of resettable fuse to power supply block,
Support for both IGO and GOI style regulators in power supply block,
Size increase of IDC/Dual row section from 2×7 to 2×8 pin,
Additional labels for I/O ports, and
Small circular mark to identify mounting point for CR2032 battery clip.
The board is available on its own for $12.50 or as part of an ATMEGA168 Development Kit for $26.50. As soon as we can get our hands on some Atmega8 (or Atmega8A) micros it will also be available as part of the ATMEGA8 Development Kit