Ever wanted to drive you etch-a-sketch from your computer, well one guy did and this is how he did it!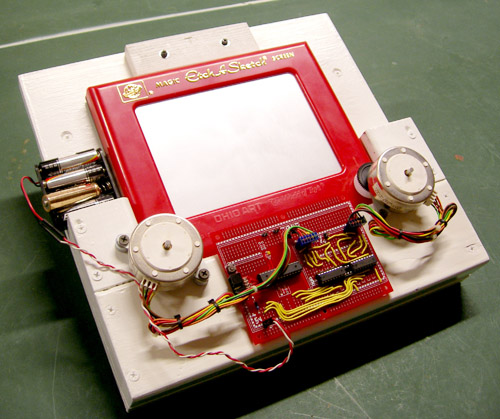 The concept is pretty straight forward. The interface to the notebook is via a parallel port, there are a pair of stepper motors that turn the knobs on the etch-a-sketch, and an ATMEGA8 sits in the middle.
One of the design challenges was that the stepper motors were rated at 24V and also drew a fair bit of current. A pair of uln2803 darlinton arrays were used with 2 channels used for each step. Each channel on the array can handle up to 500ma, so this provided adequate current for the motors.

To find out more, have a look at http://www.unfocusedbrain.com/site/2009/03/03/the-cnc-magic-screen-machine/.